Click the "Like" button at the bottom of a page to get it featured in this activity box for other Sailor Moon fans to see!

survey hosting


Only vote once. Sailor Moon Says!

Which came first? Anime La Soldier or Musical La Soldier?
The Japanese song, La Soldier was first heard in the first Sailor Moon Musical which performed from the 11th to the 29th of August 1993.
It was written for the musicals and was the first song to be sung on stage. It proved so popular that it was then sung in every Sailor Moon Musical since.
Seven months later on the 5th of March 1994, the anime episode, "Final Battle Between Light and Darkness! Pledging our Love to the Future" (called "Final Battle" in the English dub)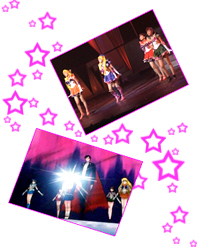 aired on Japanese TV and in it, during the battle with Wiseman, the song La Soldier was used. This version was sung by Moon Lips, a group consisting of performers who originally sang the song in the first musical, Anza Ooyama, Ayako Morino, Misako Kotani, Kanoko and Nana Suzuki.
This was the only time a Musical song would be used in the anime though it should be noted that Moon Lips also sang the new version of the Japanese opening theme song, Moonlight Densetsu which aired with the Sailor Moon S and Sailor Moon SuperS seasons.
It is unknown if this song was originally conceived as a song to be used in the Musicals and Anime as some sort of cross promotion or if the Anime producers simply liked it so much and decided to include it in the show.

This question was asked via Twitter but then removed before I could answer it. It is an interesting question though and one I had to research myself to find the answer so thought others may find it useful if I added it anyway.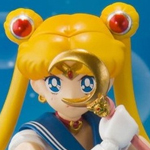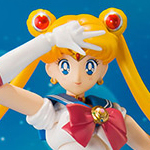 Bandai Tamashii Nations
Sailor Moon S.H. Figuarts Model!
Pre-Order NOW on Amazon.com!

Pre-Order NOW on Amazon.co.jp!

Pre-Order NOW on CDJapan.co.jp!
Pre-Order NOW on JList.com!
Sailor Moon Short Stories #2
Sailor Moon Short Stories #1
Sailor Moon Mug
Luna Plush Toy
Sailor Moon Box Set (Vol. #1-6)
Sailor Moon Luna & Artemis (Set of 2) Pins
Sailor Moon #10
Sailor Moon #11
Tuxedo Mask Mug
Sailor Moon #12
For a complete listing of all the new official Sailor Moon merchandise, check out my Sailor Moon Shopping Guide.

During the special Sailor Moon 20th Anniversary Talk Event in Tokyo, a new Sailor Moon anime due for worldwide release in the Summer of 2013 was announced! For all of the latest information on this exciting new anime, check out my New Sailor Moon Anime Information Page which will be updated constantly with news and images.

Pretty Guardian
Sailor Moon
Super Special DVD-BOX
Every PGSM episode and special!
Coming Soon: In November 2012, special Sailor Moon anime "Memorial DVD Selection" box sets will be released in Japan. Not much is known about these DVDs themselves or how much they will differ from the existing 20th Anniversary DVD Box Sets. Watch this space for news and images of these products.




Sailor Moon Tamashii Nations Shopping Guide
Sailor Moon Costume Shopping Guide
Sailor Moon T-Shirt Shopping Guide
How to Write to Naoko Takeuchi
Sailor Moon Manga Mistakes #9 + #10
2nd Gen English Sailor Moon Manga Shopping Guide
Sailor Moon Accessories Shopping Guide
Sailor Moon Phone Cases & Straps Shopping Guide