Manga
Sailor Moon Kick
Also Called
NA
First Manga Appearance
Act 1 (New Manga #1) / Act 1 (Original Manga)
See Also
anime

In Brief: A physical attack used by Sailor Moon. Was used less and less as the show progressed.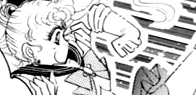 Cultural: "A fairly straightforward dream symbol. To be kicked, by man or beast, portends anxiety caused by strong competition. But if you did the kicking, you can expect an improvement in your conditions and/or position."
-- Taken from Glamour.com
The Move: Sailor Moon either does a standing kick or a flying kick at her opponent while screaming "Sailor Moon Kick!".

<-- attack guide --
<-- information --

Love Sailor Moon? Sign up for my free weekly newsletter to stay up-to-date with all of the latest Sailor Moon anime and merchandise news.